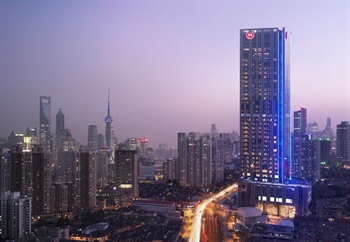 Sheraton Shanghai Hongkou Hotel brings art, sophistication and style to one of the most conveniently-located spots in the burgeoning city of Shanghai. Situated at the pinnacle of a 10-minute driving axis to The Bund and the Lujiazui Financial District – the hotel brings the best of the worlds of business and pleasure right to its doorstep. The 39-storey building stands majestically above the surrounding old Shikumen-style buildings north of the Bund with stunning vistas down the Huangpu River and beyond. With 471 spacious rooms, endless event space options and over 1,000 original artworks throughout the hotel – Sheraton Shanghai Hongkou Hotel is the ideal location for the stylish and sophisticated business or leisure traveler.
Sheraton Shanghai Hongkou Hotel is ideally located to experience the very best of Shanghai, from Puxi to Pudong. Unlike other properties, the hotel offers the best of both worlds with quick access to all of the city's major business and leisure destinations.
The spacious and light hotel features over-sized rooms and bright open spaces that are accented on every floor with flashes of art. It is Art that is at the heart of the hotel's look and feel inside, with more than 1,000 contemporary art pieces displayed throughout the hotel, with 30 pieces created by some of the leading figures from the growing wave of Chinese contemporary art.
Guests in the lobby are greeted with the stunning 8-meter long painting "Cross 2010-9"by Ding Yi - one of China's foremost abstract painters and the first Chinese artist to collaborate with French luxury fashion label Hermes with a line of silk scarves. Inspired by the images of Google maps, Lu Xinjian has specially created the piece "Shanghai No.3"for Sheraton Shanghai Hongkou Hotel, using basic frameworks and colors to represent the contours of the city with the hotel building as its center. The art experience extends to every level of the hotel with a leading piece at each floor's elevator area, including "Colorful Wheel No.1"by independent artist Ya.